Nintendo games coming soon to the Apple iPhone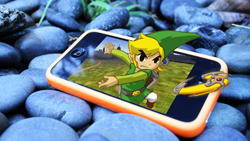 The Apple iPhone is expecting yet another surprise. Nintendo and Apple will be working together in order to release Nintendo games for the iPhone. Isn't that great? Your pink Apple iPhone just gets better day-by-day.
These days Apple products are creating hype with original innovation and this is just one more instance of many improvements the iPhone is undergoing. Hackers have already ported a version of Quake onto the iPhone. However, this new official development means the successful smartphone could also truly become a sought after gaming device. Rumors abound that Nintendo games will be sold via itunes for $29 per game. It is also said that ports of certain DS games would do especially well, such as Brain Age and Phoenix Wright.
So far it is only a rumor, and nothing is completely certain. Nintendo DS games have been tremendously popular and having them on iPhone would be definitely increase the device's entertainment value. Games like Super Mario 64 DS and other classics are expected as a given for the phone. The iPhone should also be able to perform well as gaming machine, with 3D graphics that are up to the standards of other handhelds. So, anyone who thought the iPhone's only deficiency was its lack of awesome games, is sure to be very pleased with this development. And everyone else has yet another reason to pick up their own iPhone.